Burj Khalifa in Dubai
Burj Khalifa is a skyscraper in Dubai in the United Arab Emirates and is the tallest structure ever built at 828 metres. It took five years to complete the exterior. The building opened in January 2010 CE. This amazing tower dominates the Dubai landscape and it can be seen from miles.
It contains apartments, offices and a hotel. It is set in a lake and surrounded by a park. The towering skyscraper was
mainly
designed by the architect Adrian Smith. The design inspired by nature. The structure shaped like a 'Y ' and inspired by the desert flower Hymenocallis.
The tower's wings extend out from the centre, like petals from a stem. At the top, the tower sculpted into a slim spire, made from more than 4,000 tonnes of steel. Patterns from traditional Islamic architecture are also included in the design.
Burj Khalifa in Dubai
In the lobby of Burj Khalifa, an incredible installation by Jaume Plensa displayed. This comprises 196 cymbals made of a mixture of bronze and brass and plated with gold.
The cymbals represent the 196 countries of the world and suspended on metal rods.
They struck by water dropping from the ceiling above, which the artist compares to the sound of water falling on leaves
.
Plumbing systems
The Burj Khalifa's water system supplies an average of 946,000 L (250,000 U.S. gal) of water per day
through 100 km (62 mi) of pipes. An extra 213 km (132 mi) of piping serves the fire emergency system, and 34 km (21 mi) supplies chilled water for the air conditioning system. The wastewater system uses gravity to discharge water from plumbing fixtures, floor drains,
mechanical equipment and stormwater, to the city municipal sewer.
Burj Khalifa in Dubai
The air conditioning system draws air from the upper floors where the air is cooler and cleaner than on the ground
.
At peak cooling times, the tower's cooling is 46 MW (62,000 hp), equal to that provided by 13,000 short tons (26,000,000 lb; 12,000,000 kg) of melting ice in one day
.
Water collected via a condensate collection system and used to irrigate the nearby park
.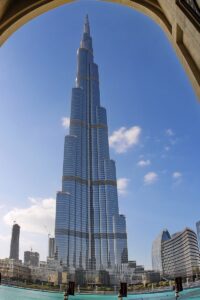 Window cleaning
To wash the 24,348 windows, totaling 120,000 m2 (1,290,000 sq ft) of glass, the building has three horizontal tracks which each holding a 1,500 kg (3,300 lb) bucket machine.The top of the building cleaned by a crew that uses ropes to descend from the top to gain access. Under normal conditions, when all building maintenance units are operational, it takes 36 workers three to four months to clean the entire exterior
.